Have you seen these colorful fabrics hanging around the trees inside your campus? Or do you want to join them but don't know where to start with?
Having a hammock on campus is not only a trend nowadays. It becomes a necessity and a great companion. College life is stressful. You will deal with endless test prep, deadlines and reading schedules. Why spend these inside your dorm or library? You can all do these in a hammock! 
If you are a newbie in hammock camping, you don't have to worry. This article is just right for you.
What is a camping hammock?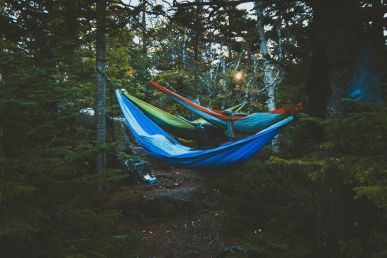 A Hammock Camping is a specialized hammock made from a parachute-like fabric that stretches when used. These are super strong, waterproof and windproof. Unlike ordinary hammocks, their durability and portability are better. They come in different sizes and colors.
Why spend time in a hammock?
Hammock CampingHammock Camping gained its popularity for the past 10 years. No wonder it found its way inside the campuses around the U.S. So, how does this new hammock trend will help you survive college?
1. A hammock offers the best way to relax
It's hard to get that nap time inside a crowded room. Crouching inside your car will give you body ache. The best possible way you can stretch and relax is through a hammock. All you have to do is to find two sturdy trees. Hang the hammock, lay there and reenergize!
2. Studying outdoor with a hammock boosts brainpower
According to a study, spending outdoor improves your brain's health. As you hang on the hammock, the outdoor feeling gives you the same impression as well. The fresh air, the quietness, the shades of trees – these are better than a study desk.
3. Hammocking is socializing!
With its popularity among college students, you will find them anywhere. You literary can 'hang' with them without the awkward introduction. You can join hammock clubs in school and have an outdoor group study!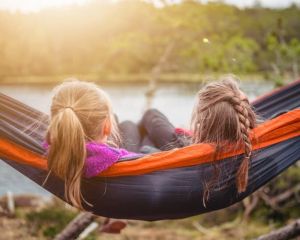 What hammock to buy?
The market was flooded with hammocks from the cheapest to the expensive. However, there are misconceptions that all kinds of hammocks fit all. That is simply not true. You don't want to bring that garden or hotel hammock with you around the school, do you? These are made for accessorizing your backyard.
For college students, go for a camping hammock:
1. Buy the double hammock.
Even if you are a single user, you will find it more comfortable than a single hammock. A double hammock offers more space. You can put your things with you within reach. No need to put them on the ground.
2. Buy a hammock that is lightweight and nylon made.
In that way, it's portable and can be easily folded.
3. Choose hammocks that offer other features.
Lazy Monk 4-in-1 Double Camping Hammock offers hammock for camping and suitable for college who want to do hammock camping! You can invite your friend for a group study, or just relax and kill time.
4. Make sure it is strong to withstand wind and rain.
A waterproof hammock is great!
5. Choose a hammock that has a tree hugger or a tree-friendly strap.
The problem with irresponsible hammocking is damaged trees. While we want to relax and be stress-free, let's not make our nature absorb it.
6. A good hammock is easy to set up. You don't want to waste time setting it up on trees.
As busy as you are, you don't have all the time in the world. All you want is a good two to three minutes set and you are good to go.
Benefits of camping hammock on campus for college student
Hammock takes studying in college to another level. It gives you more benefits than you can ever imagine which can help you better with your studies.  If you have a hammock:
You will be more MOBILE and can study and rest ANYWHERE.
Since this hammock is portable, you can hang anywhere safely. That is VERSATILITY.
Hammock let you sleep better.
A restful power nap is what you need. You want to be prepared for your next subject.
No more back pain while studying and relaxing.
Hammocks stretch wide. You can stretch those tired muscles. Lay on its parachute-like fabric. Swing it slowly while laying inside its nest.
It overs even layer for the blood to flow freely inside you. Crouching on a desk or sleeping on the ground makes you feel tired. This is due to the limited restricted flow of your sleeping position.
It is a digital nomad friendly.
Many college students are also working remotely. If you have a hammock, no need for working space. Say goodbye to tables and chairs. Set the hammock, get your laptop, and connect to the nearby WIFI.
Setting up your hammock on campus
As we mentioned before, a good hammock is easy to set up. Here's how you can set up your hammock on campus.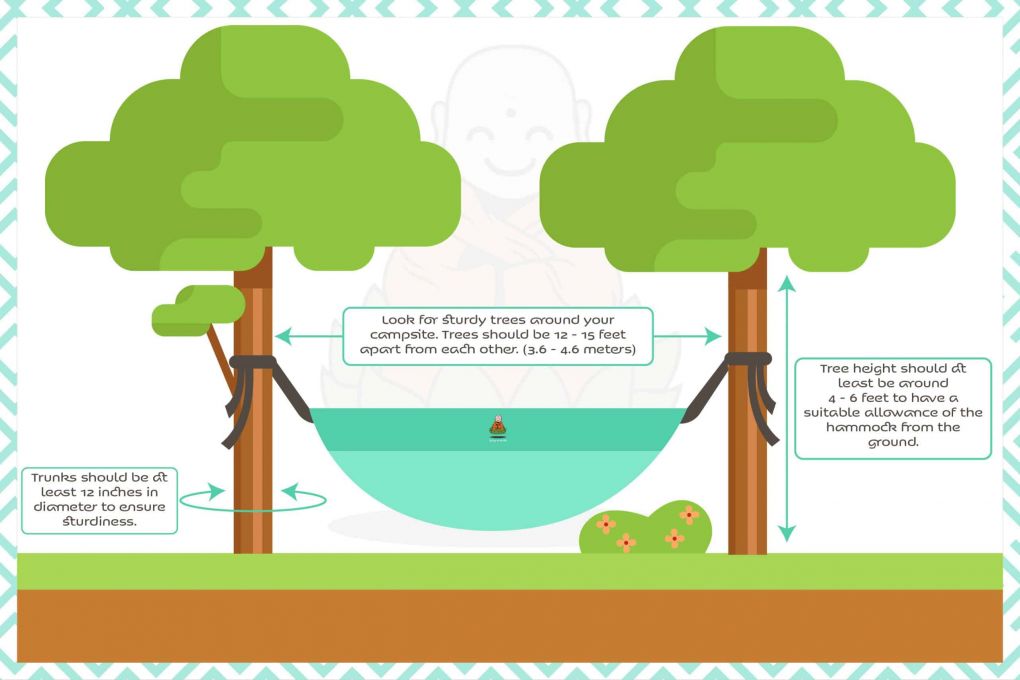 1. Find two good trees that have reasonable space between.
Make sure they are sturdy enough. The trees should be 12 to 15 feet apart from each other (3.6 to 4.6 meters). It should be at least 4 to 6 feet to have a suitable allowance from the ground. (If you only find one tree, don't you worry. You can use the stack rack above your car. Pick-up trucks are also perfect.)
2. Tie both ends of the hammock.
Our hammock has stainless steel black carabines. It won't pinch the rope. It has also a PREMADE nautical knot so you will not waste your time setting up.
3. Measure a chair high from the ground to your hammock.
Do not make it too tight. Keep it lose since the fabric will stretch to your body.
4. Sit or lay on it.
Ask someone to join you! Enjoy the great outdoors!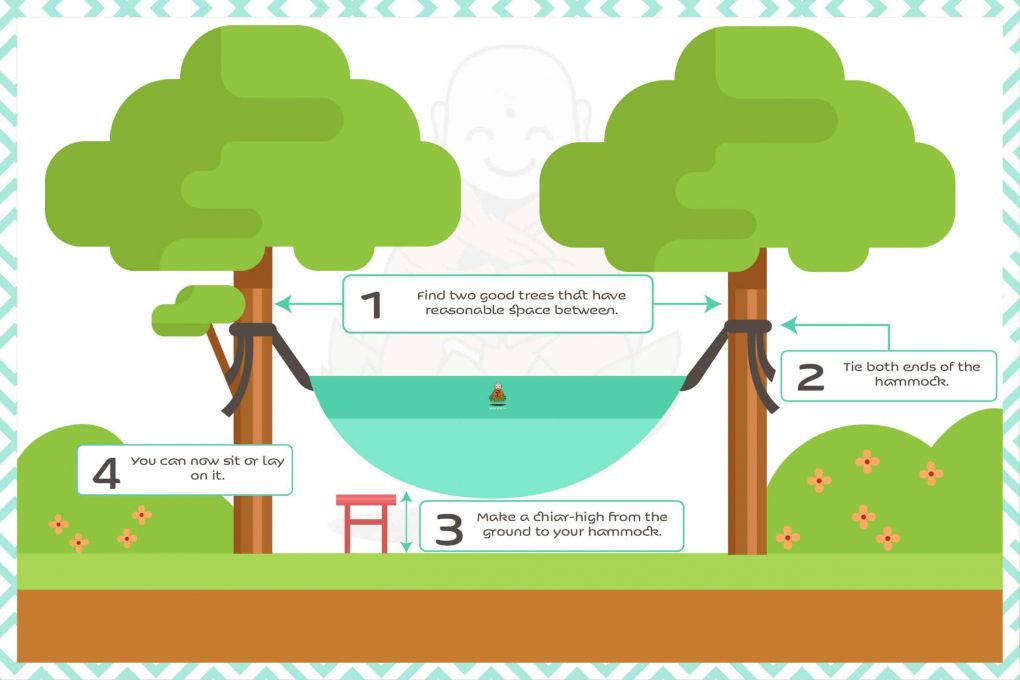 Explore the outdoors and win friends!
Hammock camping is overtaking the tent camping. In the United States alone, you barley see college campuses without hammock clubs. Relaxing in the great outdoors is better than spending time on noisy streets. We highly recommend that you join these clubs. You can lead them to the best campsites around the country. Relax, and unwind with your plus one. Check out these places around the country that come with the bundle.
Just safety reminders
We all want you to enjoy your hammock and spend a lot of time on it. Though we guarantee that our product is 100% safe as long as you follow these precautionary measures on your part:
Always read the instructional manuals before setting it up.
Beware of the conditioned of the trees or any constructions you hang onto. In camping terminologies, there are what we call widow-makers. These are brittle branches that might fall on you. Make sure the trees are healthy, green and sturdy.
Never hang your hammock without your friendly strap. We must preserve nature at all times.
Always consider the height you are hanging to. Remember, the higher you hang it, the greater the fall it would be.
Test it by sitting for a minute or two. The last thing we want you to have is a fall.