As a wildlife photographer, staying outdoors for long days is very typical. To get that perfect, wild shot, you must remain vigilant and alert. And when break time comes, having a good rest is all you need. Campers like us spend most of their time outdoors, setting up the camp, and enjoying nature. Temporary shelters are always the haven for outdoor adventurers. Being a photographer and a camper, I am living through them all my life.
Having a peaceful and relaxing night during my outdoor activities is essential. However, there are a couple of elements that ruin the mood of the night. In this article I will share how magnetic mesh screen doors solve all the challenges we face outdoor like:
Heat
Insect bites
Unsuspecting weather
Fungus (in the camera lens due to damp and too dry atmosphere)
Ventilation for temporary shelters like tents (especially when the place is very remote and no electricity)
With these elements in play, having a healthy mind and body is crucial for the job. Besides food, proper exercise and vitamins, having a good rest and power naps is necessary. To have that, we have to seek shelter for our temporary tents whenever we feel exhausted. However, getting the rest we wish to have is hard often. As much as we want our tents to be fresh, we need to shut our door to guard us against insects like mosquitoes. But there is always a problem doing that. When there is no air flowing, it makes the place suffocating, and it's hard to rest.
It's ok to have a warm place, but not in the tropics, and the list of challenges just to get a deep rest goes on.
How magnetic mesh screen door solve my problem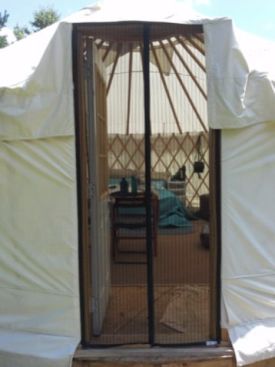 My team and I came up with a bunch of ideas to solve our dilemma every time we go camping in the wild. In the past five years, we included bringing up screen doors in the camp. However, it cost us a lot. Screen doors are bulky that it's hard to bring during our travel. They occupy space we need and added weight to the already heavy loads.
Screen Doors aren't that easy to install. We have to bring another tool to do it. Fortunately, just around December last year, I stumbled on a website with a magnetic mesh screen door.
Admittedly, I had doubts at first. I don't want to fall into a false advertisement. But itchy skin and deadly mosquitoes are driving my team and me crazy. So we give it a shot one day. Then a night having a mesh screen door made a huge difference. It was all a good morning for us!
No redder swollen insect bite! We breathe fresh air and cool breeze all night long. We never wake up energized with undisturbed, peaceful sleep for a night.
Our Experience with Magnetic Mesh Screen Door
Ever since we install the magnetic mesh screen door, we can enjoy the tents whenever we call it a day.
No air-conditioning, no problem!
Typically, if you are in a city, you can use standard screen doors without compensating coolness during summer. You can shut them and turn on your AC. However, that's not the case in the wild. Traditional door screens block fresh air from the outside. And you need every breeze coming since you can't bring AC in the wild.
In a tropical climate, the temperature can still be hot even during the night. That's how precious the airflow inside your tent. With the magnetic mesh screen door, we can do it.
Easy to install magnetic screen mesh door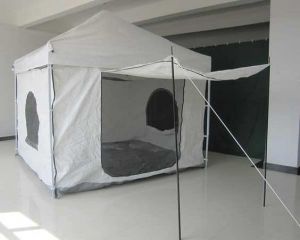 When we decided to get these magnetic mesh screen doors, we have no idea how we should install them. When it comes to home-repair works, I know it's a man's job. But I am unfortunate since I don't have any skill for a man!
A hassle-free product is just what I need. Easy to install mesh screen doors is a plus for me. We don't have to do any heavy carpentry which is out of our range. It saves time, which is very welcoming. These screen doors are easy to install. They go up with instructions that are easy to follow. Most of them fit our tents, and there are no significant adjustments needed.
It's very fast in installation. It only requires a couple of minutes to put it on. My job alone as a photographer is already tiring, and I don't want to add another work that will occupy my time and my mind.
Wild Tortures Everything – Almost
Lazy Monk's Mesh Screen Door surprises me with its durability. When it first arrived from shipping, we all thought it would last only for a week. And we're all wrong. Despite the abuse in everyday usage, it's still holding up pretty good. I have already changed most of my camera lens, but I still have my first screen doors hanging!
Magnetic Mesh Screen Door: From wild to home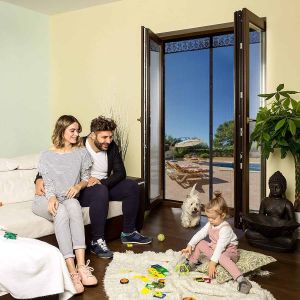 With the success of this version of the mesh screen door, I decided to turn all my doors at home with them during summer. My wife is pleased as we hang its first mesh screen at the backdoor. Now, she can open the kitchen to get the smell out of it.
Since we are also living in a mountainous suburban in Los Angeles, we have these magnificent views of the ridges serving as the backdrop. We don't want to waste them by staying inside and having close doors and windows. With this latest innovation of mesh screens, we can now enjoy the full outdoor view of our home, in total 360 degrees!
Traditional Screen Door Vs Magnetic Mesh Screen Door
Since I have used both the traditional and magnetic screen doors, I can say the latter edges the former. The reasons are obvious.
Portable and easy to install

This version of the mesh door comes with a Velcro tape making it's easy to install and uninstall them. You can bring them anytime and use them anywhere. It's a product that fits it all.

Lightweight and saves space

Saving space in our luggage is an integral part of being a wildlife photographer. When we have space, we can bring extra tools to use in taking photos. Magnetic mesh screen doors are foldable and can be rolled-up.

Operate hands-free

When you come in and out, it opens and closes automatically, so you don't need to worry as you go through it.

Allows fresh air to come in

Cooling the tents is a priority, and the magnetic mesh screen door does that job effectively. This reason alone is enough for us to buy it.

Repel bugs and insects out
When you are in the free, insect bites are common. But we never tolerate it when we are on our needed rest. Our magnetic mesh screen doors never let any of the "unwanted guests" in our bed.
Overall Impression: 5 out of 5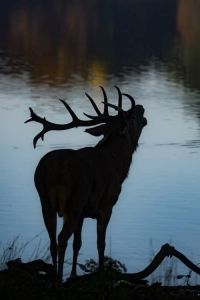 If you are an outdoor savvy like me, you won't regret a dime buying this product. If you are looking for a mesh screen door that sturdy, durable, and with full protection, you don't have to wait for a product like this to pass on. It is the picture-perfect mesh screen door you have been waiting for!